Where: Our Lady of Czestochowa; South Plainfield, NJ
Ride Operator: Tolve Amusements
Date: 6/6/08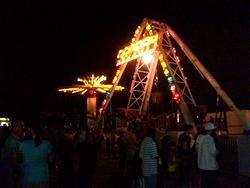 I found out about this fair when I saw a poster for it in a diner entranceway. The fair wasn't too far away so it was hard to pass up. I got the directions, and the next night I headed off to the fair.
Now South Plainfield isn't that bad of an area but Plainfield is; to a suburbanite like myself at least. The directions took me straight through the center of downtown Plainfield and I was none too happy. Actually the congestion and badly maintained roads were the worst part. I then had to make up a detour due to a road being closed off; I had fun riding around poorly lit back roads trying to get back to the route. Once at the carnival site, I had to find street parking. But first I went down a side street with cars parked on both sides and oncoming traffic; I probably had about five inches of room on either side of the car when another car crawled by. I eventually found a spot on a side street two blocks away.
I had no idea who Tolve Amusements was but it all started to come back to me once I saw the rides. Some of the same rides were at the Morris County 4-H Fair last July! The ride lineup was as follows:
Sea Ray (a wildly lit swinging ship ride)
Rave-Up (a neat-o Trabant)
Yo-yo
Scrambler
Round-Up
Ferris Wheel
Fun Slide
Some kiddie rides
A load of food stand
A supply of perogies and chrusciki
The ride lineup wasn't too bad but the fair seemed kind of trashy to be honest. That and it was really tough getting a good shot due to the lack of lighting for the exception of the rides, which had bright lighting that 'blew out' most of the images. Anyway, the same Yo-Yo from the Morris 4-H Fair was there which ran slow, didn't tilt, and looked kind of whipped; the Ferris Wheel had barely any lights on it and sat in darkness for the most part. To top it all off nicely, occasionally the generator feeding the ride's power would surge and the lights on all of the rides would dim for a second. To the fair's credit, the Scrambler looked all right and the Sea Ray and Rave-Up looked really nice.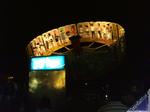 I saved a special paragraph for the Round-Up; it was the most white trash Round-Up I have ever seen in my entire life. First off, it had no lights except for two floodlights attached to the center; both located on one side no less. The pads that people stand against were all dirty and the ride took like a minute and a half to spin up! It must have been one of the original Round-Up rides, and looked like it hadn't been updated since being manufactured. It was a true WTCR needless to say.
The fair itself was mobbed that night and there were like giant groups of people, mostly teens, scattered all throughout place. It was actually tough to walk through the crowds sometimes; it was just so densely packed. I briefly scoped out the food stands, hoping to find zeppolies, but to no luck. What the heck is going on here? That's fair #2 without zeoppolies; I must be missing them or something! Each stand had a huge line for it so even if I did find them I would have had to wait a good amount of time in line.