I took an impromptu trip to Keansburg Amusement Park in Keansburg, NJ on Saturday night. My sister ended up not having to work so she called me up, suggesting a quick trip down to Keansburg. Why not? I haven't been to Keansburg in a couple of years; my sister hadn't been there in several.
We got there at around 9:00pm, the place wasn't very crowded but there was a decent amount there. My sister grabbed something to eat and we proceeded to walk around through the park. The first thing that was evident about the place, or rather the people, was that at least 60% were smoking. Now I have nothing against smokers, but when so many people are smoking cigs at the same time it's really fricking annoying to walk through all the second hand smoke clouds! The best part is that Keansburg even has a carnival game where you can win cigarette packs!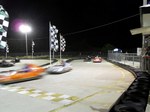 Anyway, we checked out the Go-Karts at the north end of the park, mostly hoping to see someone spin out or crash into another car. No luck with that unfortunately. We then headed down to the southern end of the park where many of the park's better rides are located, including the Wildcat, an old Schwarzkopf Wildcat model.
We debated on either riding Double Shot, a small S&S drop tower or Wildcat along with an almost mandatory spin on the park's old Spook House. We decided on Wildcat due to nostalgia; my sister's track record on that coaster goes back since she was just over the height limit to ride.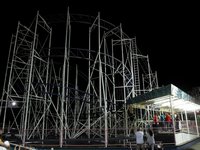 Wildcat certainly has been improved over the years. At one point they only had two cars running on the ride; now it looks like they have about five nicely refurbished cars. The ride was also painted a few years back with a light purple track with white support color scheme. Unfortunately they still only allow one car to be running through the circuit at a time which makes the line a little longer than it has to be.
The ride itself seemed much faster than I remembered with some very forceful (as in lateral force) helix portions. There was even a decent amount of airtime over some of the abruptly dropping hills. The downward helix just before the final brakes in particular seemed much faster as well; the car rocketed around the final corner and slammed into the 'stop on a dime' brakes. Nice coaster and not too expensive at $4.50 (compared to most fairs around the area that charge $5-6 for a good flatride.)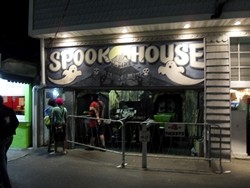 Next was the Spook House, another nostalgic ride. This particular dark ride is one of, if not the oldest Pretzel manufactured dark rides in existence. It uses big old model A Pretzel cars and follows a hectic, twisting layout. Most of the props are older and covered with Day Glo paint which make them light up if a black light is shined upon it.
Now I always remember the inside of this ride being pitch black, but it wasn't this time. It was still pretty dark but you could also see some of the layout ahead of you and even other cars traversing the track. Part of the fun on this ride was not knowing where you were at any moment due to the darkness. Also there's points where the cars come very close to each other, probably on purpose to create a near crash effect. Usually it's so dark that you can't see the other car until it's right there, this time however the other car was visible leading up to the location.
Other than that the ride was still a lot of fun with all of the old props and sound effects. Plus the constant turning of the car is kind of disorienting and at some points it even feels like the car had just broke free from the track and is rolling into who knows what! Here's a great page about the Keansburg Spook House that has a lot of photos of the props and (incredibly tight) layout.
After the Spook House we just milled around a bit, got some zeppolies, and left at around 11:30pm.
Other Photos