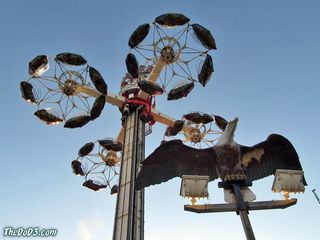 Condor is a ride made by Huss Rides of Germany, famous for their multitude of spin n' puke rides including the Breakdance and Top Spin.
Condor is very different from most flatrides in that it utilizes a tall tower structure; it's still considered a "flatride" though. The ride is made up of 4 arms with four 7 car wheels on each end. The cars are able to freely swing back and forth and riders sit in an inline style, meaning that one person is in back and one is in front of them, not unlike most common log flume seating arrangements. The 4 arms are attached to a drive motor in the center which rotates the wheels around the center of the ride and also climbs the tower.
The Ride
Once everything is ready to go, a gate on the right side of each car closes pneumatically to keep riders from exiting the car. There are no restraints on this ride; the car is similar to an Enterprise car actually with the exception that there is no roof. The wheels begin to spin counterclockwise and then the ride spins clockwise. The ride right now is essentially a Scrambler with swinging cars.
Next the drive motor begins to scale the tower taking all the passengers up with it. I believe the top height on the Condor is 115 feet. I've been on two Condors in my lifetime and each are different; at the top of the one at Morey's Piers in Wildwood, the ride slows down to allow passengers to take in the sites, which beachside Wildwood has a great deal of. The Flying Falcon at Hershey Park however slows down the clockwise rotation but ramps up the speed of the wheels throwing the cars near sideways. That's pretty unnerving being that high and seeing the ground spinning 115 feet below you when you look to the left.
Other Info
Despite being a tall and massive ride, there are Condor rides that travel on the fair circuit, mostly in Europe.
Multimedia
Here's a few photos of Condor at Morey's Piers.
And here's some of its removal!
Here's an off ride/on ride video I took back in 2006 of Condor that was formerly at Morey's Piers in Wildwood, NJ.