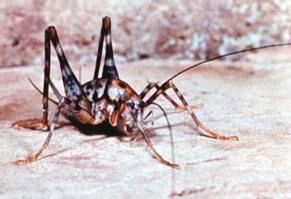 Whenever I get into a conversation about "things that we hate" with someone, I automatically think of those horrible, disgusting, demonic, gross things called Rhaphidophoridae; or more commonly known as 'cave crickets.' 'camel crickets,' and 'cave weta' for our New Zealand readers. Chances are you don't know what the hell one is if I call it by their official and unofficial names, but if I say "those dark brown spider things that have two huge back legs, that hang out in basements and jump" then you might just have an idea of what I'm talking about.
Cave Crickets are crickets that absolutely feast on damp, dark places such as caves, crevasses, under rocks, and of course basements. Now, I know what you're saying "what the hell? You're afraid of a cricket?! What a wuss!" Well, yes I am. To me, most spiders are fine (unless it's like the size of a plate,) those green grasshoppers are all right, cicadas are cool, but cave crickets…NO.
I have a few distinct cricket related memories etched into my brain from when I was little such as when we found a cricket trapped in a glass; when my father found a cricket in the upstairs bathroom (the only time we had ever seen one upstairs luckily) and when a cricket jumped on my damn leg! The crickets always lived in the sump-pump closet and routinely came out and played around the den-like section of our basement if the towel jammed under the door somehow got removed. If you open the door during the spring or summer, you would usually see about 4 latched onto the wall and God knows how many else hidden around the nooks and inside the sump pump hole.
A classic discovery usually happens after I've been down in the den for awhile, I'll get up to get something and I'll notice a brown thing clinging to the wall. I immediately stop moving and begin planning on a way to kill it. I need to kill it, because they usually roam around and I just can't go about my business knowing that a large cricket could be about to scale up my leg. I mean, I could live with a large spider in my basement because chances are it won't move off of its web. Anyways, after I kill it, or if I kill it, I won't come downstairs again; I'm already too creeped out with the fact that there could be another one somewhere, so any further plans in the basement are done.
Killing a cave cricket is hard as hell; they have incredible fly-like reflexes and are fast. The fact that I don't want to go near it kind of dampers any efficient way of disposing it as well. The worst thing that could happen while trying to kill a cricket is startling it. If you startle it, they will jump around like crazy. Let me repeat that…
If you startle it, they will jump around like crazy.
The last thing you want is a cave cricket skipping around like a fuckin' bouncy ball.
Cave Crickets are really quite pitiful despite their size and appearance. They don't bite, they don't sting, they don't attack in any way. Their only means of defense is size. In last ditch efforts, a cave cricket will sometimes leap at you before retreating; buying itself a few seconds for its getaway. It works! When I was younger, a cricket jumped onto my bare leg once. In another, more recent, encounter, I opened an outside door only to have a cricket leap out like some friggin' jack in the box. It slammed against my bicycle's tire twice before scrambling to lord knows where.
The Attack Plan
My usual plan of attack is basically getting a phone book or any other large, heavy object and attempting to launch it onto the cricket, thus crushing it. It rarely ever works of course. The table below lists the percentage of the result happening:
| | |
| --- | --- |
| Result | Percentage of it Happening |
| I miss cricket; cricket does nothing | 20% |
| I miss cricket; cricket starts jumping | 35% |
| I hit cricket and cricket lives; cricket starts jumping | 40% |
| I hit and kill cricket | 5% |
Obviously the odds just aren't with me if I use the "phone book method." So I adopted method #2: The cup attached to end of golf club method. Here I tape a large, clear plastic cup onto the head of a golf club, I then attempt to catch the cricket, slip something under the cup, and throw it outside. It's much more humane, but it forces me to come uncomfortably close to the cricket. Here is percentage table #2:
| | |
| --- | --- |
| Result | Percentage of it Happening |
| Cup falls off club before I get it to cricket | 10% |
| I tap cricket with cup while lowering it; cricket starts jumping. | 30% |
| Catch cricket, cricket escapes; cricket starts jumping | 30% |
| I actually catch the cricket and remove it from house | 2% |
| I rip cup off of golf club and club cricket to death | 28% |
Now obviously the simplest method of killing a cricket would probably be stepping on it. I could probably do it more efficiently that way since I normally miss with a blunt object. But I just can't listen to the disgusting crunch it would likely make and it would probably get stuck to my shoe; god knows I want to touch the damn thing, dead or alive. It would probably start jumping before I even put my foot down on it anyway.
The Centipede
A far tougher enemy (I can't believe I just called it that) came one day while I was in the basement. I was just minding my business and I suddenly see this thing dash across the floor. "What the…?!" I see it again and notice that it's a 4-5 inch centipede. "Holy…!" I had to find a way to kill it. There was no way in hell I was going to stay down there knowing that a bug that can actually sting me is roaming around. The problem was that this thing was fast…fast as hell. I threw something at it and it hi-tailed behind the sofa. I then moved the sofa, saw it, and crushed it with the butt of a baseball bat. As long as that damn towel stays jammed under the closet door in the bathroom they'll be thwarted…somewhat…
Back to Observations