Here's the Dorney Park and Wildwater Kingdom park map for the 2001 season. There honestly isn't much to say here so I'm just gonna skip the pleasantries and go right into the meat of this week's Crapstravaganza!
---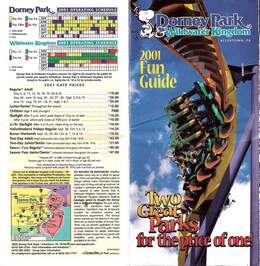 The big addition in 2001 was Talon: Grip of Fear, or just 'Talon.' This was a pretty big addition for Dorney as the park lies between Hesheypark and Six Flags Great Adventure, both parks having a wide assortment of coasters at the time including two inverted coasters of  their own. The only looping coaster at Dorney Park until Talon's debut was Laser which, while a good coaster, was just a two loop Schwarzkopf. Talon rounded out Dorney's coaster collection very nicely at the time.
As always, the schedule on the left is posted for those using time travel devices; send me a postcard!
---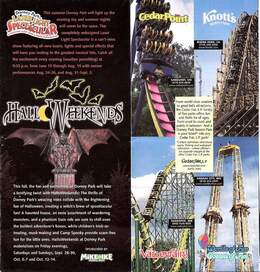 On the bottom left is a HalloWeekends promo, but more importantly above that is still something for the Laser Light Spectacular! I thought that crap would have been gone already! This would prove to be the Laser Light show's final year as Meteor, a Chance Hawk 32 model, would take its place for the 2002 season.On the right, Dorney Park guests get to see rides that aren't at the park; I'm sure this must have caused mass confusion. Dorney Park is owned by Cedar Fair Entertainment, so this page basically pitches their other parks: the well known Cedar Point in Ohio; the somewhat well known Knott's Berry Farm in California; the not so well known Valleyfair! in…uh, somewhere*; and the not well known Worlds of Fun in…actually where the hell is Worlds of Fun**?

* Minnesota ** Missouri
---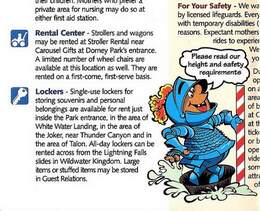 There's that friggin' character again. I still have absolutely no idea what it's from, or why it's in the Dorney Park brochure. I also seem to remember a cut-out of this doofus standing outside of the park gates as a height checker for children and as a photo op for Theme Park Review members who just can't resist a goofy photo.
---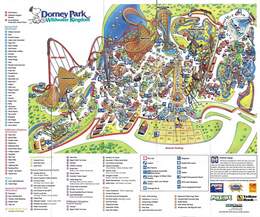 The map! It's pretty similar to the 1998 map actually, but there are some differences…
Talon is there…
Paratrooper disappeared! It was removed prior to the 2001 season.
Monster was moved to make room for…
Dominator. The two drop tower complex was added for the 1999 season.
Laser is now electric green.
Skyride is gone.
Skyscraper is where VooDoo is now.
The original Skyscraper was re-named Ferris Wheel.
Wild Mouse is there.
Enterprise is still facing the wrong way.
Wave Swinger still doesn't look like a Wave Swinger.
Waldo is near the Aqua Blast slide.
Back to Theme Park Crapstravaganza