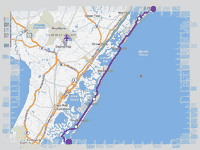 On 1/31, I went to the Golden Nugget farewell ceremony in Wildwood. However my trip down there turned into basically a weekend long trip. While I could have just driven all there and all the way home (a nice three hour drive each way…) I decided to stay at my family's summer house in Brick, NJ on Friday night, which is about an hour and a half from Wildwood. On Saturday morning, I headed down to Wildwood and then decided to stay over at the summer house on Saturday night again. It was kind of like a mini weekend vacation! So, with all the time I had to screw around, I decided to take a little off-season sightseeing tour up the Jersey coast!
After leaving the old Hunt's Pier, I took a walk down the boardwalk to Mariner's Landing only to find some orange construction signs and a chain link fence blocking the way. Apparently they're doing some boardwalk replacement in front of Mariner's Landing and the old Midway pier (photo). From what I've seen in the past, this section doesn't really need to be fixed up as much as some areas between Mariner's Landing and Surfside Pier; some of the boards there are all loose and would rock up and down when traveled across.
With not much of an option, I turned around and proceeded to walk down to Sportland Pier. This side of the boardwalk is never as crowded as the other ends in the summer, and the same was true in the off-season…actually, no one was there! I probably could have wandered about the pier since it wasn't locked off or anything, but I decided not to. Here's a few pics near Sportland Pier and Surfside Pier!
Next I went back to my car and drove up through Wildwood Crest. To my total non-amazement, the place was absolutely dead; I only saw a few cars the entire time while there. Then I decided to stop once more at the boardwalk, on the other side of the construction, to see if anything noticeable was going on at Mariner's Landing and Wild Wheels. I didn't see much activity save for a person taking pictures of the boardwalk construction; here's the pics of the Crest and the boardwalk!
I got back in the car, drove past the Hereford Lighthouse, through Anglesea (which may as well be North Wildwood) and over to Stone Harbor, the next island community up from Wildwood. As I turned down one of the major north/south thoroughfares in Stone Harbor, I noticed a street sign reading "95th street"…yeah, it was going to be a long drive! Stone Harbor doesn't have a boardwalk or much of anything to attract people in the off-season, so this place was absolutely dead; same with Avalon, the next community up on the same island. I only have a few photos of this part of the trip; looking back, I wish I would have stopped along the way.
I then crossed a bridge into Sea Isle City where I found another "90th street" sign, marking another long trek up the island. Sea Isle City was a little more active, but not much more; for the record, Sea Isle City did have a boardwalk. A little futher up, in an area between Sea Isle City and Strathmere, the area that the roadway traveled through became very narrow, at one point with only one row of houses on either side of the road and nothing else. Strathmere was as dead as dead could be; the town actually has a population of only 175 permanent residents! After completing the drive up this island, I crossed yet another bridge only this time with a $1.50 toll, bah!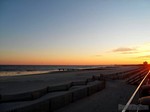 The bridge led into Ocean City, a popular shore town at the upper edge of Cape May County. I had never been to Ocean City before, but knew of the boardwalk and amusements, so I set out looking for some off-season photo ops! Of course there was a problem, I didn't know where the hell the center of 'action' was in OC (if you can even call it that during the winter!) I was worried that I had passed it at one point before stumbling upon a car-less ferris wheel and Double Shot tower…guess I found it! I parked on the street, checked the meter only to find that the coin collecting part had been taken out (hooray for free), and bundled up. The wind was really whipping down the boardwalk this particular day, and with it being in the mid 20s…well it was just a bit uncomfortable to say the least! I walked down the boardwalk a bit near Playland's Castaway Cove, trying to scope out the winterized rides. I decided to walk down the boards a bit more and, to my surprise, started to see the top of a large ferris wheel in the distance just visible over the boardwalk shops. So I kept walking down the boardwalk, drawn to it like a moth to light…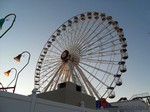 As I drew closer to the wheel, I could see the cars rocking quite a bit in the wind; if I was riding and my car rocked as much as they were, I think I'd crap a little! I also passed by a waterpark a couple blocks before coming to the amusement park. I stopped in front of the waterpark and peered over the fence to see a drained out lazy river and not much else. I thought about taking a self shot while standing in front of the waterpark as I was wearing a large jacket, hood, gloves, etc, but didn't for some reason. Anyway, the wheel ended up being a part of Gillian's Wonderland Amusement Park, a small amusement park with a lot of kiddie rides and a couple decent ones like a mid-sized coaster, log flume, Musik Express, and swinging ship. After scoping out the park, I made the trek back to the car, past Music Pier, past some joggers, and past very few open shops save for the Mack & Manco pizza place that was packed!
I exited Ocean City via Route 9, and through Somers Point on the way to the Garden State Parkway. While going across the bridge, I almost ran into the other lane while trying to look at the nice sunset behind Beesley's Point Generating Station while still driving. Too bad there was like no place to stop, or I could have gotten a really nice photo. I took the Parkway back to Brick, NJ where I stayed for the night, only to continue the sightseeing tour the next day!
Part 2 of this trip report will feature Seaside Heights, Asbury Park, and a few other places!
And here's part 2: Jersey Shore Excursion pt. 2