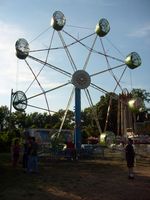 The Rock-o-Plane is a classic fair ride made by Eyerly that seems to be making a comeback as of late, at least at the fairs around my location. The Rock-o-Plane is essentially a ferris wheel with 8 oval shaped pods that can lock into position if the rider pulls back a bar located in front of the seat. Today, these rides usually look pretty good because almost all have received new paintjobs due to their age, but their still pretty rinky-dink looking. They kind of seem to resemble large ninja stars made out of steel ladders…maybe that's just me.
The restraints on these rides are definitely the worst part of the experience aboard a Rock-o-Plane; the lapbars are composed of a large metal bar with a seatbelt slung lengthwise across it. The bars close when the door closes, and then the bar locks by having one end stick out through a slat in the door. They aren't exactly comfortable…
The Ride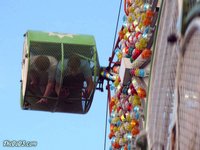 A ride on the Rock-o-Plane isn't too bad. You can ride it like a normal ferris wheel or you can pull the bar back and let your pod roll upsidedown. Usually I start rocking the pod and then pull the bar back at random times, attempting to make the pod perform multiple flips…it never works for me. However some people skilled in the art of Rock-o-Plane flipping can!
Another trick I like to attempt is pulling the bar back while at the top and then trying to make the pod travel upsidedown through the loading area. The pod brakes on most of these rides aren't the best so the pod usually slides out of position before a station pass can be completed. Bad brakes are probably a safety feature of the ride; the danger of tumbling the pod head over heels is the fact that you may just leave a permanent bruise across your lap due to the horrible restraints!
Other Info
The Rock-o-Plane requires 1 trailer to move which is why its a fairly common ride among small carnival companies. Some Rock-O-Plane rides have also been modified to use open-air, forward facing cars; these versions are called Sky Dancer, but they're not as common as the original. The Rock-o-Plane is also one of many '___-o-Plane" rides that Eyerly has made. The others being: Loop-o-Plane , Roll-o-Plane, and Fly-o-Plane. Other 'o-Plane' rides were made, but they were never as popular as the four mentioned; they include: Crash-o-Plane, Concorde-o-Plane, and Snakes-on-o-Plane.