Event: State Fair at the Meadowlands
Where: Meadowlands Sports Complex; East Rutherford, NJ
Primary Ride Operator: Amusements of America
A summer just isn't complete without a trip to the Meadowlands Fair! The annual fair held in the Giants Stadium parking lot at the Meadowlands Sports Complex in New Jersey is probably one of the biggest fairs in northeast. The fair claims to bring over 75 rides and attractions which I don't doubt one bit. I was originally planning on going to the fair on Saturday until I saw that the fair would be open only to Live Earth concert ticket holders on that day. Friday it was then! This year's ride lineup was pretty good, however two of the 'major' rides were not open. Here's the rundown, if I can remember it all:
Space Roller (THE ride at any fair)
Fireball (a KMG Afterburner)
Bonsai (took two years off from the fair and returned this year)
Crazy Mouse (spinning wild mouse)
Ring of Fire (an old one)
Orbiter
2x Flying Bobs (one of those older swinging Himalaya rides)
Rock n Roll (a newer swinging Himalaya)
Giant Wheel
Cliff Hanger (one of those hang gliding Paratrooper type rides)
Tilt-a-Whirl (only 1 this year surprisingly!)
Gravitron
Bumper Cars
Skyride
Bumper Boats (I kid you not)
About 10 funhouses and dark rides
A myriad of kiddie rides.
About 10 freak shows.
The non operational rides consisted of:
Hang Ten (an SDC Explorer type ride. Great ride too)
Spin Out (the KMG/Tivoli "mini-major" ride.)
Tornado (one of those Wisdom spinning contraptions.)
Missing this year:
Zipper (again)
Music Express
Scrambler
All of the "Extreme Zone" attractions (the up-charge rides like Slingshot)
I left at a little after 5:00pm; my trip started by picking up my cousin. I fought through congested Jersey highways until I got there at around 6:00pm. We got to the fair at maybe 6:30. It was three bucks for parking, seven bucks to get in, and 20 smackers for the unlimited rides handstamp. $20 isn't bad at all for the handstamp considering that tickets were $1.00 each with most rides taking 4 to 5 tickets.
Our first ride was one of the two Flying Bobs present at the fair. The ride was operated by four guys who just looked like the stereotypical carnies. We were ushered into our car and we attempted to fasten the seatbelt, which was too short. One of the ride ops said that we didn't need it and that was that! You really don't on one of these Himalaya rides. The ride was pretty jerky and only went forwards. To its credit the cars swung pretty nicely over the hill crests. The ride was also about 3 minutes in length.
We then walked around until we got to the Tivoli made Orbiter; a complete sleeper thrill ride if I've ever seen one. This Orbiter had a multicolored color scheme and was in incredible condition. The ride was short, but that was good considering that it absolutely flew! I've never been on faster Orbiters than the ones at the Meadowlands Fair through the years. At night this ride lit up with a great light show complete with strobes which can be seen in the video below.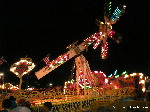 We both had to sort of walk off the Orbiter, and after some time we decided to ride the massive Mondial made Space Roller. The Space Roller has made an appearance at the fair almost every year since maybe 2003. This ride had a nice cycle with quite a few moments where we were whipped around and hung upsidedown. It was a really good ride, but afterwards we both felt a bit of queasiness. My cousin is prone to motion sickness so that's normal, but for me it's a sign that I'm getting less and less tolerant to spinning rides. I used to be able to get off rides like this and scramble back in line, but not anymore! However, there is no way that I'm going to stop riding them, I still find them insanely fun! I mean, It wasn't too bad but enough to keep my feet on the ground for a little.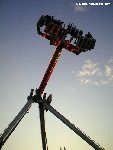 We decided to go over to the vendors area in the meantime. At a table near the middle of the vendors area sat Joe Gannascoli (aka Vito) from the HBO drama The Sopranos. Next to him was the white SUV that they used in the show. He was doing a book signing or something. A photo with him would have been perfect for this trip report but I most likely would have had to buy whatever he was pitching to do so. I mean it's Vito…not James Gandolfini (aka Tony.) Nice touch though, a guy from the Sopranos at a fair in the heartland of Sopranos filiming terrotory.
After browsing around the vendors area and me consuming a slice of pepperoni pizza and a small soda that cost $6, we headed back to the rides and rode the KMG Fireball, a staple of the fair for many years now. The ride cycle was very short, as it was last year. I remember the first year I went on it, the ride must have went for four minutes or so. After a little more walking around, and seeing the Crazy Mouse's giant line, we decided to ride the Wave Swinger, another Meadowlands Fair regular. The previous year saw two Wave Swingers graze the midway. I always liked how this particular fair would bring seemingly every ride from Amusements of America's lot, even if it meant bringing two of the same ride. Past years have seen up to 3 of the same ride at the fair; normally those rides would be the Tilt-a-Whirl or Gravitron. Anyway, I got on an outside seat on the Wave Swinger and for some reason my seat pointed outward as the ride spun up to top speed. I actually thought the ride was more fun that way! They should just have all of the swings point outward. lol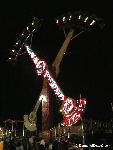 The next, and last ride was the Bonsai, a Fabbri floorless Kamikaze. This was the first time that I had seen them load both sides of the ride; probably due to the lines that were getting longer as the night wore on. As soon as the ride was about to start, I suddenly felt my stomach start to churn, most likely from the pizza I ate during the downtime between rides. "oh great, this isn't gonna be fun…" I thought. Nothing happened of course, despite being hung upsidedown for about 20 seconds. It was a really good cycle with some very fast loops. The loading was a bit long but what do you expect when there's only one ride operator?
Throughout the night I kept checking to see if the Hang Ten was open but there was no luck there. I saw it spinning slowly at times and hoped that it would open but I guess they had a problem with it or something. Hopefully I can catch another Amusements of America fair with the Hang Ten present. The Spin Out on the other hand laid there dormant all night. The Wisdom Tornado had a couple of cars lying around in pieces…I guess it was safe to say that it wasn't open. Lol
At about 10:30 or so the lines began to get horribly long for every major ride at the fair. The longest line we waited in was for the Bonsai, which was probably only like 15 minutes. A little later the line for the Bonsai was protruding down into the middle of the midway. The Space Roller had people gushing out of its "holding pen" area and the Fireball had a line that must have extended like 100 feet from the ride. The only major ride that didn't really have a long line was the Ring of Fire; but I'd be hard pressed to ride that thing again! I did take a few pictures of it and while doing so I noticed that the ride op stopped the cars upsidedown for, no joke, like 30-45 seconds! We left the fair at around 11:30.
If we used tickets we would have spent about 26 bucks so our handstamps did pay off. If my stomach hadn't been rocking all night (even beforehand I wasn't feeling 100%) I probably could have racked up like 50 bucks. Next year I'm going to take some motion sickness pills and make sure to gouge every cent out of the handstamp. lol\