Event: State Fair at the Meadowlands
Where: East Rutherford , NJ (in the Giants Stadium parking lot)
Operator: Amusements of America
The Meadowlands Fair is definitely one of the biggest fairs that comes to the area every year. The fair claims to carry over 75 attractions which, if you count the kiddie rides, isn't that hard to believe. Along with rides they also have a petting zoo, circus, various freak shows (including the famous World of Wonders), and other more normal shows. Of course, being a ride maniac, I stuck to the rides mainly! This year's ride lineup was a bit better than last year:
Fireball (KMG)
Space Roller (the ultimate thrill ride)
Hang Ten
Spin Out
Wave Swinger (2)
Gravitron
Giant Wheel
Flying Bobs (2)
Musik Express (a smaller version)
Crazy Mouse
Avalanche (a typical Pinfari Zyklon)
Ring of Fire
Scrambler
Tilt-a-Whirl
Sky-Ride
A bunch of spook/fun houses
A myriad of kiddie rides
A load of greasy treats stands
Freak shows
Countless skill games
Missing this year were:
Scorpion (the Tivoli made monstrosity, and possibly most forceful ride ever)
Orbiter (a surprising no show)
Zipper (a VERY surprising no show)
Bonsai (not at the fair even though it was listed on the njfair website)
Hi-Roller
Trabant
I left at around 6:30PM for he fair and arrived at 7:00PM, there was little traffic on the Turnpike which was a nice change considering that it was still rush hour. While going over the overpass heading toward the parking lot I noticed the unmistakable blocky counterweight section of the Space Roller (better known as the Mondial Top Scan) in the sea of carnival rides. Parking was 3 bucks, admission was $7. The first thing I did was take the escalator up to the loge section of Giants Stadium to use the bathroom. This is what Giant Stadium is used for in these months…a giant bathroom area. While up there I took a motion sickness pill to dash any feeling of un-wellness that I may have riding the rides. I first walked around the fair area to see what the fair had to offer, and to let the pill take effect. I then got my unlimited ride handstamp for $15, not too bad I guess.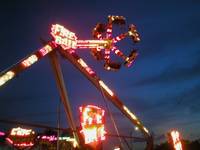 The first ride I went on, and actually the first ride of 2006 for me, was the Fireball. The Fireball was absent last year but grazed the fair for 3 consecutive years before that. This year though, the Fireball's ride cycle was horribly short. It took about 1 minute for the swing to reach maximum height, and then we got maybe two big swings before the ride started to slow down. People that used tickets must have been reeling after the paltry ride cycle.
The next ride that I went on was the Hang Ten; the self proclaimed "fastest ride on the midway." The Hang Ten used to the premier ride for Cooke's Amusements but I've seen many Cooke's rides with other companies now which leads me to believe that Cooke's may have went under. In any event, it looked great with a new paint job and backdrop. Unfortunately it was run on a cycle comparable to a park model Enterprise; it was so short that I didn't even remember riding. That and they had a 2 person per seat rule; I was alone so I had to ride with this little kid who had got on just ahead of me. The kicker was that while I was shooting video of the ride later on, I saw 2 people riding alone! Maybe they only adopt the rule when there may be full capacity or something.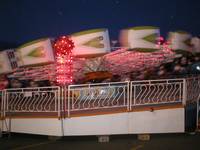 The canned mic man was really going on this, doing the whole "do you wanna go faster?! Let me hear you scream!" bit. The funny part was that while the ride was full, there was barely a yell to be heard; the canned mic man was ready for that with "come on, this ride has 42 people on it and I didn't hear a thing!" Usually, the wave motion of the ride is left on for about 2 minutes; here it was left on for maybe 30 seconds…no kidding. That being said, this ran a bit faster than when Cooke's owned it. It seemed faster than an Enterprise which is incredible since the Hang Ten doesn't go upsidedown.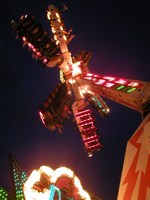 After the Hang Ten I walked around and took a few pictures and then decided to go on the Space Roller. The wait for the Space Roller was one ride cycle which is nothing. Once let onto the platform, I scrambled to an end seat but then moved later on when two girls asked if I could move to a single seat right behind the row of seats I was sitting in. The spot left open was a middle seat, but why be an ass and refuse to move when they wanted to ride together? The middle seat proved to be very enjoyable actually. It's not nearly as G force pulling as the outermost seat but the ride seems much smoother there. The motion sickness pill must have took effect because I wasn't fazed one bit by the ride. After the ride I took a quick stroll around the midway to get yet more pictures, and then decided to ride the Space Roller again, this time I snagged an end seat and got to keep it! The ride definitely has a stark difference as you move outward. The end seat was just how I remember it; wild, intense, G filled, and fast.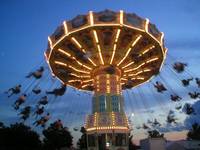 After my second Space Roller run, I decided to grab something to eat. On my way to get some pizza, I stopped for a couple of minutes to watch "Buffo: The Worlds Strongest Clown." He was doing a little trick where he had a kid on stage to help him make a "magic cake." It was funny because he lightheartedly poked fun at the kids in a way that completely flew over their heads, obviously trying to amuse the adults watching. Instead of making a magic cake, Buffo opened the cake container to find "Buffo the Turtle" inside. Back to the food, I went to the front of the midway and got a slice of pepperoni pizza and a small Coke which set me back $5.50; luckily, it was good. I then headed back to the midway to get more photos and shoot some video. I saw that the Wave Swinger was loading so I scrambled aboard. The Wave Swinger looked great, but ran a bit slowly for my liking. I never noticed how small the seats on a Wave Swinger were until that ride. It ran for quite a few minutes which was amazing considering how short the ride cycles were this year.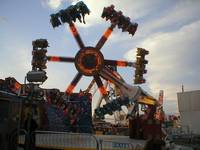 Next I hopped onto the Spin Out, possibly the most seen 'major' ride today. I can see the appeal of this ride being that it is compact with a high thrill value. It probably only takes up one trailer as well which is the most appealing factor to carnival operators. A ride like the Space Roller takes up 4 (yes 4!!) trailers, but that alone will attract fairgoers, unlike the Spin Out. The ride was a bit longer than most park models (park model meaning a trailer model set up in an amusement park) and just the right length I think. Being hung upsidedown for a good period of time just isn't my thing so only a couple of minutes of Spin Out is enough for me.
At this point my motion sickness pills must have been wearing off because I definitely felt it after the Spin Out. Though, I decided to hop on the Space Roller one more time. This time I got a second from the most inner seat and it wasn't too bad. After that ride I was done though, It was almost 11pm anyway so I decided to leave as opposed to try and walk ride off and then try another ride. Even though I didn't go on too many rides, I still would have dropped about 45 bucks if I bought tickets. The way home was pretty nice, not much traffic on the Turnpike and almost none on I-78…just the way I like it.
As a side note: The first time that I ever went on the Space Roller, I rode it once. The next year I rode it twice, this year I rode it three times…maybe next year I'll try to stomach out 4 (EDIT: that didn't happen .)
14 years later edit
I dug up some old video of this fair! Whoa!