Event: Great Allentown Fair
Where: Allentown, PA
Primary Ride Operator: Powers Great American Midway
Date: 8/31/08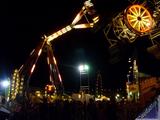 As I toiled around one day at some amusement park forum ,I noticed that someone posted how they were excited about the Great Allentown Fair. "Oh crap!" I thought; I had completely forgotten about this fair after catching wind of it the prior year just in time to miss it. The fair will not elude me this year…
Apparently the Great Allentown Fair has been an annual event for 156 years (!!!) and has gained some serious clout for a festival. The fair drew approximately 570,000 visitors this year which is pretty darn big! The fair also hosted a concert every night with some pretty well known acts such as Toby Keith, Brooks and Dunn, ZZ Top, Daughtry, and Jonas Brothers. On the day I went Simple Plan was playing along with two other groups that I've never heard of (Metro Station and Secondhand Serenade); needless to say the place was inundated with the pop punk/emo crowd. It's too bad I missed Daughtry! Riding the rides and hearing Feel's Like Tonight or something would have been pretty cool.
I arrived at the fair at around 4pm and parked in the first lot I saw; it was five bucks to park. I had no idea where the fair even was from this lot, but upon asking the attendant I found that it was only two blocks up. Admission was 6 bucks, which isn't bad, and the wristband was $20 and lasted all night. Now, I had an idea of what to expect from this fair after looking at the list of rides that Powers Great American Midway touted…I just didn't know that they would bring the whole damn lot to the fair! The fair lineup was as follows…
• Freak Out
• Cortina Bob (a Crazy Dance)
• The Claw (Spin Out)
• Twister (a Moser Rides 'Maverick')
• Super Shot
• Mind Blaster (not running…but looked weird)
• Ring of Fire (a Fireball named RoF)
• Vortex
• Orbiter
• Wave Swinger
• Flying Bobs
• Full Tilt (a weird ARM Ali Baba)
• Spider
• Starship 2000
• Cliffhanger
• Zipper
• Giant Wheel
• Scooter
• Sizzler
• Zero Gravity
• At least 2 funhouses
• 1 dark ride
• A myriad of kiddie rides
• Lots of agricultural exhibits
• Countless concession stands
• Lots of skill games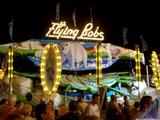 Oh my…this fair was huge. After purchasing the wristband I headed over to the Freak Out, but decided to ride the nearby Flying Bobs instead. This looked like an open air Herschell Flying Bobs; typically they have a canvas roof and all. I was happy that they didn't employ the two rider rule on this like many other Flying Bobs or I would have been out of luck…until I dragged someone on. Anyway this Bobs ride didn't go too terribly fast but the cars, or more specifically my car, swung like crazy. Maybe it was because I was sitting in the middle of the seat or something but my car would swing uncontrollably at times, so much so that I would attempt to counter the swinging by shifting my weight! It's fun to swing on a Flying Bobs but not when the car is rocking so much that your car is pointed outwards as much as it is inwards! It was pretty intense for the wrong reasons…but oddly fun.
Next I headed over to the Orbiter only to be shot down by a two rider rule. That's an absolute first for an Orbiter. However I've been on the ride plenty of times this year so it was no big deal. I headed off to the Cortina Bob instead.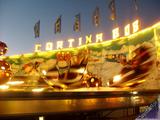 Cortina Bob is a Fabbri Crazy Dance themed as Olympic bobsleds…that's not something you see everyday. Then again a Crazy Dance is not something you see everyday at US fairgrounds. I was greeted with a two person rule, but saw some single riders on the ride. Apparently they were letting single riders on and would either pair them up or just let it go…I like that! I mean, if I didn't fall out while on the Huss Breakdance at Astroland, then I'm sure as hell not going to fall off a more placid Crazy Dance.
Anyway I was paired up with some kid and the ride started shortly after. It was fairly fast, not nearly as fast as a Breakdance but it went about as fast as a Crazy Dance can go. Unfortunately this one did not have the lifting mechanism that some Crazy Dance rides have now. The ride lasted about 4 minutes which was pretty good; the ride experience itself was decent, but not great.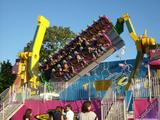 Afterwards I took a walk around the fairgrounds, looking at the stands and such before hopping on Twister, a Moser Rides 'Maverick.' This ride looks really intense when you watch it, but it's really not at all. It's actually pretty forceless since the gondola seems to roll rather than flip. The cycle wasn't very good I thought; between every set of motions was a lengthy pause, almost like the ride was thinking of what to do next. This is one of those rides where it needs to be manually controlled to give a good ride. If the ride mixed up the motions from vertical rolls right into the diagonal rolls and so on, this would have been a really wild ride. Instead it was just kind of uncomfortable.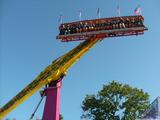 Right after getting off Twister I looked to the right to see a ride called Full Tilt loading; I immediately hopped on. Full Tilt is basically a floorless ARM Ali Baba but with a little trick up its mechanical sleeve; at random times the row of seats will tilt forward a bit. This didn't exactly make the ride more exciting but it was kind of weird being thrusted forward every so often. At first I thought the downward force would push me off the seat, but it really didn't. There's also a running board below the seats that only comes in contact with the riders when tilted downward; you can basically stabilize yourself by putting your feet on it. I guess it's not entirely floorless then.
It was pretty hot out so I went and walked around some of the buildings they had. At first I didn't think they had much indoors until I walked into a nondescript doorway that lead into a very long building under the grandstands of the race track. Here vendors and organizations rented out spaces; some sold drinks and food, some sold collectables, and some were just religious groups handing out pamphlets. I walked by one sponsored by Messianic Judaists and was handed a small pamphlet that contained six solid pages of text. Guess I'm not reading that. The funny thing came one space down which was sponsored by another religious organization. The person was about to hand me their pamphlet but upon seeing the one that I had, she pulled it away!
The weirdest stand I saw was one sponsored by an anti-abortion group. Many stands had a glass case in front, like it was originally intended to be a meat market or something, and a lot of the groups would put whatever they were selling into it. Well, the anti-abortion group had plastic babies and ultrasound images in the case! At a first glance it looked like they had babies for sale or something! Now, I respect the views of many groups, including this one, but the setup was just a bit odd to say the least. I wanted to take a picture but a couple of people from the group were already staring at me and I didn't want to be a jerk…no, not here at least.
After exiting I saw another building in front of me; one that was even bigger! This particular building housed all of the agricultural and arts exhibits as well as more vendors. I immediately headed for the arts and crafts to find some pictures to make fun of. Surprisingly they had a lot of quality artwork, unlike many a 4H fair I've been to. However I saw one enlarged photo that was blurry and had a time/date stamp on it (from the camera) and it received an award…what?! Maybe the award was for "worst in show" and I just didn't notice or something. The crafts section had all the normal things you would find but also had Lego and Knex exhibits as well as a section for antiques. The last section of the building had vegetables and other food related items like pies, cakes and jams.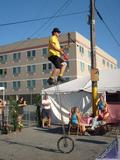 At some point I also stopped to watch a little show put on by a street performer type guy. He was pretty funny as well as skilled at what he did. Not everyone can ride a 10 foot high unicycle while juggling a plastic club, a torch, and a machete! One of my favorite cheesy jokes was when he asked for a lighter from the crowd. A man took one out and the performer told him to just toss it over saying that he was a juggler and would catch it. He then proceeded to miss catching the lighter and instead took one out of his own pocket.
After walking around I jumped on Cortina Bob again. On this particular ride the ride op seemed to quickly slow down and speed up the satellite wheels in attempt to spin the cars. It just made the ride jerky though. I'll take a Breakdance any day over this ride! Next I went on Freak Out, a four seat variant of their Fireball. The ride actually seemed more intense than a Fireball with some really crushing positive Gs at the bottom of the swing. The cycle lasted for about 3 minutes and by the end I was not feeling well at all! I walked back over to the agricultural building and sat down for a bit.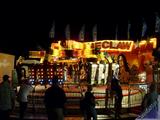 I decided to grab a little something to eat, getting just a burger and soda for $5 bucks. At this point the concert had begun and the music could be heard all around the fairground. I got my video and photos all in before riding The Claw, a KMG Spin Out. This was actually a pretty nice looking one decked out with a fog machine and strobe lights. The ride was about 2 minutes, which wasn't bad. Next I walked over to the Vortex, a Fabbri Junior Booster, only to find that the line had swelled up greatly. Oh well, guess I should have rode before! The ride was sort of an upcharge ride with an extra three tickets required to ride along with the wristband. These rides are very popular over on the European carnival circuit but Vortex is one of the few, if not the only one, traveling in the US.
I finally left the fair at around 11pm. As I walked out Simple Plan was playing their last song, the only song I recognized. I tried to look it up on YouTube for the sake of naming it in this trip report but almost all of their singles sound the same so I couldn't exactly place which one it was! Traffic on the way home wasn't bad and I-78 really opened up just after getting back into New Jersey.