Opening day at Six Flags is an event that I've never attended before. I usually get my season pass in mid-May as a birthday present but this year I felt the need to expedite that by getting it before the season. I didn't even know when opening day was until a week beforehand; even so, I didn't know if I'd be able to go until a day beforehand.
The park opened at 10:30am on April 5th, but I'd be hard pressed to get there for the opening. Being a college student, 10:30am is a time rarely seen by my eyes. I ended up leaving for the park at around 1pm, effectively missing the opening day festivities…if there are any. From my north Jersey abode it took about one hour to traverse the little bit of Parkway, Turnpike to 7A, 195 east, and that road that GAdv is on with the Muffler Man statue that kind of looks like Alfred Newman…I'll need a photo of that here.
Upon arriving at the parking gate, I got to choose one of the many lanes. Of course the one I picked was the one whose computer station shutdown, forcing me to wait some 10 minutes with no escape. After getting my season parking pass, I parked my car and stuffed all the crap I needed into my Velcro pockets. Entering the park was snap (ie. no line and no metal detector fiasco.) I proceeded to season pass processing to acquire my pass.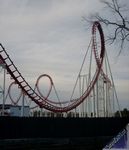 After waiting in the longest line of the day, about 20 minutes, I got my season pass and season pass coupon book. Now that all the business was out of the way, I was free to finally ride. I immediately hopped on the Great American Scream Machine to pay homage to its "old school looping action." The line for GASM was nothing at all, which was great but not great at the same time. Low popularity normally spells disaster for any ride and I just don't want to see this beast go anytime soon!
Scream Machine was surprisingly smooth this time around but still had it's moments of 'bump time;' the second loop is usually the main culprit for this. My advice is to just tilt your head down a bit as you enter the loop and you'll be fine. Other than that, the coaster is just a bit rough…but fun rough…if that makes sense.
I passed on Superman as I just don't like the coaster, and it also had something called a line where I would have to partake in the act of waiting. If it had a station wait, then I would have hopped aboard. Instead I watched the Twister's pitiful cycle as I walked past on my way to Kingda Ka.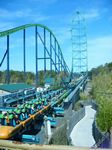 Kingda Ka had a small line and I waited about 15 minutes to ride. Fifteen minutes for Kingda Ka is like a dream come true. The last time I saw this area was on the last day of Fright Fest when KK harbored a massive line that extended out to the kiddie play area. I would have waited in that line to ride…if I was a masochist. I eventually hopped into an open seat along with another single rider. The launch was great, as always, and at the top I managed to make my campy "nice view" comment before spiraling to the ground.
Next I headed over to El Toro for some bull riding. The line started near the middle of the second queue 'maze,' which is always a nice sight. As with Kingda Ka, the last time I saw El Toro 's line was during Fright Fest when it extended out to the bridge over the creek! Anyway, I waited about 10 minutes in the same spot in line. At this point my 'coaster sense' was tingling…I knew something was up. My notions were realized as I saw an empty train slowly edge around the turn into the lift hill. A few people left at this point, one group of kids saying "let's just go to Medusa and come back later." Good idea, I decided to exit the line as well and head for Medusa.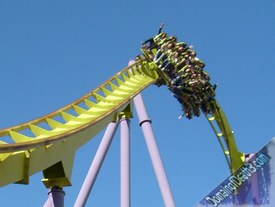 As I strolled over to Medusa, I saw the train for El Torostopped at the foot of the lift. Maybe it's because of it's location but Medusa never has a line on light days. I happily marched through the line, up the stairs and right into the station for a two train wait. Medusa was fun as always, I never get any sort of adrenaline rush from this coaster anymore, it's just fun now. After Medusa I walked through Frontier Adventures, noting the absence of the Super Teepee. I walked all the way over to Nitro and continued walking right into its line.
Nitro's line started where the track goes over the queue, which is wonderful. I waited maybe 10 minutes before boarding. Unlike Medusa, Nitro still gives me a bit of an adrenaline rush, not to discount Medusa or anything. The drop on Nitro is still one of my favorites, especially when sitting in the back. After Nitro I walked over to Batman, but first checked out the Dark Knight's construction. So far it looks like a large, plain, off-white building; a big downgrade from the Chiller's mangled red and blue support structure. I then entered the line for Batman.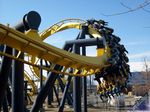 Again, the last time I saw Batman was during FF when the park was at something like triple over capacity. At that time I saw something truly horrifying, a line that filled the entire queue of Batman. However, this time around I walked through Batman's line and was greeted to a bunch of open slots. I didn't even have to stop; I just walked right into a row and sat down in the seat. Batman has gotten a bit rough over the years, but I think that makes it more fun. The tight loops and turns all pull some decent Gs, making this one of the more intense coasters at GAdv.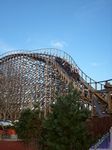 After Batman, I waltzed over to the Character Café and had my usual cheeseburger platter with a Coke. It's overpriced, about $11 in total, but at least you get a lot of stuff. As I ate outside, I noticed shadows moving across the ground. I looked up and saw that the Sky Ride was running, something I haven't seen in some time. After eating, I headed over to El Toro and jumped into the queue. It was about a 15 minute wait, and as I got into the seat and got the lapbar stapled in, I hoped that my 11 bucks would stay down. There was a point where I could have eaten in line and then hopped on Chaos or something, but not anymore. El Toro was great, with its drop that may as well be straight down and ejector air that could launch someone to…well…Mexico City.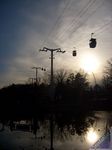 After El Toro I headed over to the Sky Ride station in Fortier Adventures only to find that the crowds had beat me to the punch; the Sky Ride had a full queue wait. So instead I turned around and went on the Runaway Mine Train. I was greeted to open rows and waited one train. The announcement on this ride is very loud and annoying I thought, especially with the 'YEEEEEEEEEE-HAH!!" at the end. Then again I had a bit of a headache at this point so that might have been why it was irritating!
I was stapled in, ugh, and the train was off. The Mine Train is fun as a coaster but also fun because of its odd details. The drop after the lift is odd because it's not a drop at all, it's this giant helix that's banked a little too much at the top. I remember when this had the old T bars; it felt like you were going to fall out if you were sitting on the right! Then there's the weird head chopper support that seems to come way too close if you're sitting on the right. The subsequent hill has a walkway since the train used to get stuck there routinely and the hill after the helix over the water has some tire drives to prevent the train from being vallied. Yep, the Mine Train is fun all around!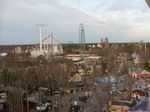 After the Runaway Mine Train, I walked over to Skull Mountain . Again I simply walked through the line and went right to the back seat. Skull Mountain seemed a bit darker inside this year, but I could still see, and hear, the dark support poles whooshing past the train on occasion. I never dare put my hands up on this coaster; it's probably okay to do so, but still!
I finally wrapped up my trip by riding the Big Wheel, a ride I haven't been on in years. While all the wild coasters are fun, it's always nice to kick back on this big Schwarzkopf made wheel. As I boarded and pulled my camera out, the ride op said "please do not throw objects from the ride, like that camera." Ha, of all the objects I have in my pocket, the camera and my keys would be the last ones to go.
I left GAdv at about 7:30pm and headed over to Brick Township to relax at my families shore house until Sunday. The house is only 20 minutes away, a nice alternative to battling Turnpike and north Jersey traffic for an hour. I was going to stop at Seaside on the way back but decided to do that another time as it was raining on the way back.