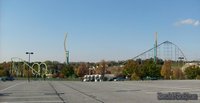 I went to Six Flags the first and second Friday in October, but didn't on the 24th as one of my cousins was getting married that day. I didn't dare try to go to GAdv on an October weekend, so instead I opted to head over to Dorney Park in hopes of short lines and to check out their Halloween Haunt. The last time I visited Dorney was in 2006, so I was really looking forward to going. The park opened at 12pm on Sunday but I arrived at around 1:30pm after a drive that took less than an hour. Parking was $10, and entry was a reasonable $30.99.

In the entranceway they had a bunch of Halloween props out like one of those life sized guys in an electric chair, a hearse with realistic looking crows covering the top, and other smaller props. The closest coaster was Talon so I walked over to the entrance. On the way I noticed that Hang Time, a Top Spin, was not operating. The wait for Talon was basically a station wait; I was on in no time. I haven't been on too many inverted coasters, but I'd say that Talon is my favorite of the bunch. It has a very unique layout for a B&M invert with some forceful turns and even some airtime along with the inversions. The line was nothing so I walked around and took another spin.

Afterwards I walked down past the non running White Water Landing (gee I wonder why…) and past the also non operating Meteor while on my way to Hydra: The Revenge. Hydra is a floorless B&M coaster that manages to pack in 7 inversions despite its modest 105 foot drop. The first inversion is a slow ass roll dubbed a "jojo roll" for some reason; jojo roll sounds like a candy actually. The drop is pretty short at 105 feet but fairly steep; back row riders really get tossed over the hill! I noticed that Hydra has gotten a bit rough over the years. It's interesting how certain B&Ms quickly become rough and others don't. Like Medusa at Great Adventure and Talon are very smooth, but Hydra and Incredible Hulk have a fair amount of roughness to them. I think in slaying Hercules (the giant wooden mountain of a coaster that sat in Hydra's place until 2004), Hydra inherited some form of Herc's 'Dinn Shuffle' phenomena; there were points when the car was literally being tossed from side to side! Still, Hydra is a very nice coaster with an extremely unique layout.

Next I ventured over to Steel Force, but made a stop at Apollo first. Apollo looks a heck of a lot like a Huss 'Swing Around' but is actually made by Soriani and Moser. The cars are indeed different than the Huss counterpart but everything else is damn near identical, save for the center globe. On Apollo, the cars spin around the center and at a certain point begin to swing outwards bringing the car almost completely sideways. It's not nauseating, and isn't very scary, but just a lot of fun!
I then went through the path near Scrambler that was converted into a graveyard walk through; however it wasn't crawling with ghouls during the day. Thunderhawk wasn't running, which sort of blew and Revolution wasn't either! I thought it was kind of funny how all of the older flatrides were running, but none of the

newer ones were! I finally arrived at Steel Force which seemed like quite a trek from Hyrda. Steel Force had a bit of a line, but it amounted to about 10-15 minute wait in total. I grabbed a seat towards the back, put on the seatbelt, and pulled down the lapbar that really doesn't serve much of a purpose; its lowest position is like 5 inches away from the average sized rider!
Steel Force is a lot of fun with a pretty good drop, a great helix, and a bunch of bunnyhops toward the end that provide perfect floater air. However the coaster is a little jarring in some parts. Like the ride isn't rough but it has its bad transitions here and there that jolt riders around. It reminds me a lot of an an Arrow coaster, the way it 'tracks' and all.

After Steel Force I crossed the bridge and dropped by Laser to see if it was operating; it wasn't. That really sucks as Laser was one of my favorite coasters. Instead I strolled down the path to Voodoo, the parks new ride for 2008. Voodoo, as many coaster enthusiasts know, is a transplanted Intimin 'Impulse' coaster from Geauga Lake in Ohio which went under the name Superman Ultimate Escape and then later Steel Venom. I was tipped off that Voodoo is going to be renamed in 2009, so this coaster will soon have a grand total of four names over its existence. The ride itself was fairly intense, especially when flying backwards at some 70mph. The launch didn't seem like it was 0-70 as it's billed by some; the train would haul ass for a second but then slow a bit, it was more like a 0-50 launch. I really liked the part where the train is held on the straight spike. The coaster is really gimmicky, but a lot of fun.

I decided to head over to the old Mangels Whip next, and passed by the operating Monster flatride. I thought about taking a spin but kept heading over to the Whip instead. I waited about a two cycle wait before boarding. I got a pretty wild ride this time around! My car would round the turn and then proceed to sway back in hard enough to make the spring that prevents the car from hitting the center compress all the way. A loud 'crack' would ring out every time this happened and afterwards my car would fling out to the side again.

I went over to Enterprise next and upon boarding we found that all of the cars were locked up. People either stood around waiting for it to be opened or tried anything to get it open. I waited for about, oh I don't know,  two seconds before fiddling around with the lock; hell if I know how to undo the puzzle-like lock on a Musik Express, then this should be a piece of cake. It was; you just need to unlock the chain and then pull the lever on top of the car. The ride itself was pretty short, but that's to be expected at a park. Actually the traveling Enterprise I went on at the Orange County Fair last year wasn't much longer. The longest cycle I've seen was on Astroland's old Enterprise which, no joke ran for like 3 minutes straight!

Next I basically did another lap of the park while getting video and photos in. I rode Hydra again and Talon twice more before nightfall. I wanted to ride Monster, but it had already closed for the night. Once it got dark, ride lines became incredibly low as the Haunt attractions opened up. I rode the red tower on Dominator which had a very small line as opposed to the green side which takes longer to load. I took another lap on Steel Force as well as Voodoo. At one point I saw the train on Laser riding up the hill and dashed over to see if it was open. They were just testing apparently; I have no idea why they didn't open. It's too bad though; I really wanted one final ride in before it gets shipped off the Germany.

I hopped on Tilt-a-Whirl a bit later on and attempted to spin the car like crazy, but I just couldn't get it spinning too fast. I mean, I basically spun for the entire ride cycle, but I never got any quick, rapid fire, out of control spinning. I once again boarded Talon and saw that the station was basically empty. As my train was leaving I noticed a walk on wait for the front seat, jeez. I once again headed over to Hydra and chained two rides together, even stopping for a taco in between! Hydra was absolutely dead with entire sections of train going out empty.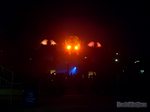 I wanted to check out the Haunt stuff so I went to the Graveyard walk through first, which was over by Thunderhawk and Scrambler. I had walked through this during the day, seeing all of the tombstones; many of them had old ride names on them, like Hercules and even Whacky Shack as well as baseball teams who got knocked out of the playoffs. There were a lot of ghouls in there but most hid behind the obviously larger tombstones. Although the ghouls here seemed a lot more in your face than at Six Flags, literally! I remember looking at something to the side while venturing through and as I looked back ahead there was a growling girl scare actor maybe three inches from my face! Shoot, if I knew that was coming I would have at least popped a breath mint! At the end was a dude with a chainsaw who walked toward us while being backlit by an orange flood light. It looked cool, but wasn't particularly scary.
I walked up the path to the front of the park where Corn Stalkers was to try that one out. On the way I saw this on the parks time/thermometer tower…brrr. The wait for Corn Stalkers was about 15-20 minutes or so as they only let in a few people at a time. However this one was much better than the Graveyard which actors

that looked like dummy scarecrows lunging at you and guile suit wearing scare actors that would blend into the hay. Once again the end had a guy with a chainsaw, the same one who is in the video actually! There was also a scare actor on a bungee thing at the end that would fly at you, very effective!
After walking down a red lit path out of Corn Stalkers, I started to hear muffled, thumping electronic music. It was coming from Club Blood, an indoor walkthrough that was pretty well off the main path. The large shed looking building had all kinds of spinning lights and stuff making it look like some underground rave. I was allowed to enter by a bubbly, mini skirt clad living dead girl who didn't look unlike some goth chicks I've seen. Inside were big rubber gutted animal/human bodies hanging from the ceiling as well as rubber intestines. The place had a lot of scare actors, many of which would plant themselves at the end of a hallway full of these plastic curtain strips and walk through in the opposite direction as people started to push through. At one point there was a scare actor who simply stood there, rocking with an expressionless face while mumbling to himself; I think he deserved a scary guy award for being the most convincing!
There were several more Haunt attractions set up besides these three but I didn't have enough time to do them all. If anyone went in them drop a comment below!
After exiting I realized that it was about 10pm and the park was closing. I quickly searched through a store in the oft chance that they had a Laser shirt, but nothing. They had shirts for every other coaster, even Thunderhawk, but no Laser. I left the park a little after 10pm and for the most part cruise controlled all the way home.