Event: Feast of Corpus Christi Carnival
Location: Corpus Christi Parish; Chatham Twp, NJ
Amusement Operator: Tommy's Midway
I've known about this fair for many years now but have only gone to it a few times. It's not a big fair but a fair nonetheless. This fair occurs at the Corpus Christi Church in Chatham, NJ . The parking lot that the fair was held in was pretty small but they managed to pack about 5 big rides back there along with a bunch of kiddie rides. The ride lineup was: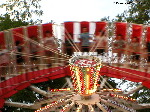 Wave (a Trabant)
Rock-o-Plane
Round-Up
Sizzler
Chair Jets (a swing ride)
Fun Slide
A myriad of kiddie rides
An assortment of chance wheels, skill games and greasy treats stands.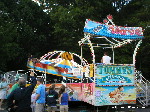 There really wasn't too much to this fair, at least as far as I was concerned; I'm sure little kids would have a blast at this carnival. One of the bigger rides was Wave, an older looking Trabant ride with a surf theme. It looked alright, but it wasn't in pristine condition or anything, as the case with most Trabant rides. The underside of the spinning platform had those long yellow tube lights but only 5 of them worked; I sort of likened it to looking at a person with 5 teeth. However, the platform spun faster than any other Trabant I've ever seen. Looking back I should have paid the 5 bucks to take a spin on it since you barely ever see Trabants anymore. (Note: now I see them all over the place! ) It's also worth noting was that the Chair Jets were still being put together while the fair was happening!