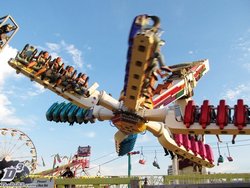 Space Roller is a Mondial manufactured Top Scan ride. It's one of the handful of major, modern European funfair rides that have started to pop up in the US and Canada. Typically these large rides weigh too much to travel on US highways (Top Spin is a prime example) so they are almost exclusively seen in Europe.
The main component of the Space Roller is a large boom with a six armed satellite on one end, and a counterweight on the other. Riders sit in rows of five and are secured by harness and seatbelt. These rows of seats have the ability to freely flip throughout the ride. Space Roller is truly the ride at any fair, but that drawing power comes at a price as this ride racks onto four trailers!
Space Roller is simply an alternative theme for Top Scan, but a popular one as at least two others exist. Other names for this ride include Samurai, Skater, The Beast, and Poseidon's Rache (Poseidon's Revenge.)
The Ride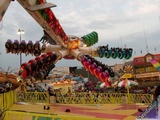 First, queuing riders must to wait in a somewhat disorganized queue line; it's basically just a group of people herded onto the left side of the platform. In the past, a ride attendant would open the gate and the first 30 people to scamper, push or cajole their way through the gates got to ride. On more recent rides, the ride ops let 30 people onto the platform before each cycle. Now you just need to fight for a certain seat, rather than fight for a seat at all! The seats aren't braked so when jumping up into the seat, it's not uncommon for them to roll forward a bit. After seated people will usually try to pull their harness down and can't because, unknown to them, the harnesses come down automatically. The satellite also spins a bit if there is too much weight on one end.This, of course, freaks some people out because they think the ride is starting with them not secured!
When the cycle begins, the support arm, which is on a hinge of some sort, moves up a few feet to raise the satellite off the platform. The satellite then starts to revolve for a bit before the boom begins to rotate.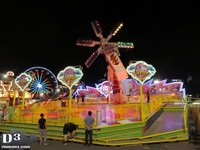 Like I mentioned, the seats can flip at random which makes this ride extremely unpredictable. It's pretty hard to even explain what it's like since so many sensations are felt. In certain instances, one can feel negative Gs and lateral Gs, all while upsidedown!
One of my most vivid memories of this ride was when the row of seats that I was in stayed upsidedown while the boom rotated from the uppermost point, down to the platform. What I saw was an upsidedown loading platform rushing towards me until the seats flipped upright again. After the ride, it's not uncommon to stray to the right while walking due to the heavy laterals during the entire ride (at least if you were sitting on an end seat.)
Other Info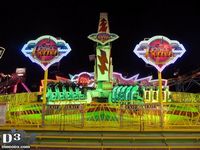 A few different rides have components of the Space Roller but provide very different rides. In Europe there is a ride called 'Inferno ' which is also made by Mondial. Inferno has everything the Space Roller has except for the six sided satellite that riders sit in; instead there are two large gondolas that face each other. The two gondolas are able to perform horizontal flips at random, only much more slowly which allows for some massive hang time. Another ride called "High Energy,' which is made by Zierer, is basically an Evolution type ride only with the Space Roller's 6 sided satellite attached to one end.
In North America there are currently two Top Scans operating; one at a park and one on the road. There was a third one operating as of 2005, but was removed after an unfortunate but freak accident.
Multimedia
This is Space Roller at the 2012 State Fair Meadowlands. In the videos, it was under the ownership of Walter Murphy.
The first video features music and all kinds of snazzy stuff:
And the second one is the no BS version with original sound: