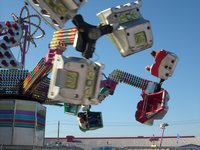 Orbiter, manufactured by Tivoli, is a pretty common ride around US midways with quite a few medium to large carnivals owning one. The ride can almost be seen as a more extreme version of the Scrambler and Sizzler type of rides that have grazed midways for decades now.
Orbiter is comprised of six arms with a satellite on each end holding three cars. The center spins in one direction and the satellites spin in the opposite. The arms are able to tilt the seats to a steep angle, nearly sideways but not quite. The colors vary but multi-colored or a brownish/red and yellow color scheme seem to be the popular ones.
Riders are secured with simple lapbars with G-force holding the riders in more than the bars. Orbiter has a top speed of 21 RPM for the center sweeps and 26 RPM for the satellites. The speed of the satellites are dependent on the speed of the center hub and cannot rotate by themselves.
The Ride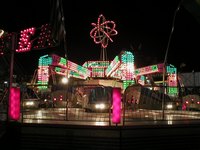 A ride on the Orbiter starts with the center spinning in a counterclockwise direction; it's not too fast at this point. Next the center of the ride rises up a few feet and the arms begin to flip outward as the ride begins to spin faster.
The next part depends on how far the ride operator turns the speed dial. I've been on Orbiters that go at a fair speed and give a nice enjoyable ride, and I've been on Orbiters that whip riders around at Mach 10. On the latter you tend to get a feeling of your face being pushed back as the cars dive under the arms. It's worth mentioning that riders are in very unnatural positions while riding with them essentially sideways and vertical at times. To be honest, you don't even realize it while on the ride.
Other Info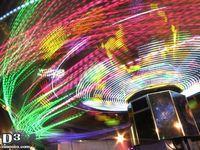 Orbiter comes in three names: Orbiter, Predator, and Typhoon. While Orbiters are mostly found at carnivals there are non trailer-bound park models. For example, The Flying Machine at Busch Gardens Williamsburg is a stripped down Tivoli Orbiter. The ride has also seen a successor of sorts in the Tivoli Re-Mix ride. Re-Mix differs from Orbiter by hoisting cars to a 90 degree angle and seating riders in floorless cars. The satellites on Re-Mix can also be spun independent of the center hub.
Multimedia