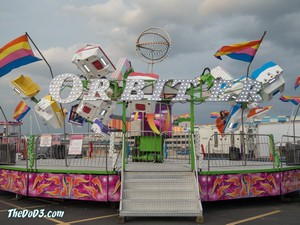 Orbiter, manufactured by Tivoli, is a pretty common ride around US midways with quite a few medium to large carnivals owning one. The ride can almost be seen as a more extreme version of the Scrambler and Sizzler type of rides that have grazed midways for decades now.
Orbiter is comprised of six arms with a satellite on each end holding three cars. The center spins clockwise while the satellites revolve counter clockwise. The arms are able to tilt the satellites on an angle.
Riders are secured with simple, flip down lapbars. Orbiter has a top speed of 21 RPM for the center sweeps and 26 RPM for the satellites. The speed of the satellites are dependent on the speed of the center hub and cannot rotate independently.
The Ride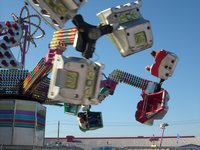 A ride on Orbiter largely depends on how fast the ride is set to go. Some may be set to run at a slower speed to effectively make it a family ride while others are run near or at its top speed, making it a thrill ride through and through. On the latter you tend to get a feeling of your face being pushed back as the cars dive under the arms. Despite riders being sideways for most of the ride, you don't really slide around the seat thanks to the G-force.
One common feature of most Orbiter rides is a trash bin placed at the exit. The bin isn't necessarily for garbage, but more as a convenient place for those needing to vomit after exiting the ride.
Other Info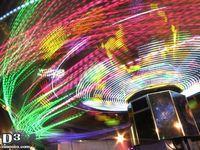 Orbiter is offered in three names: Orbiter, Predator, and Typhoon. While Orbiters are mostly found at carnivals, there are permanent park models such as Flying Machine at Busch Gardens Williamsburg and Honker Dinger Derby at Sesame Place.
Orbiter has a successor of sorts in the Tivoli Re-Mix ride. Re-Mix differs from Orbiter in that it features floorless seats and that the arms can be raised to a steeper angle. The satellites on Re-Mix can also be spun independent of the center hub.
Multimedia