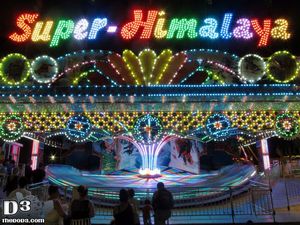 Himalaya is a type of ride made by many companies such as Mack, Bertazzon, Wisdom, and Reverchon. They typically go under three general names: Himalaya, Musik Express, and Super Himalaya
Himalaya is comprised of X number of cars (depending on the model) attached to sweeps that radiate from the center. Each car is outfitted with a wheel underneath the carriage that rolls along a track. Several of these wheels are connected to drive motors, which act in unison to make the ride revolve. Riders are restrained with a simple lapbar. Many Himalayas today also use seatbelts as a secondary restraint.
The Ride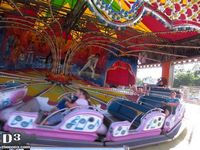 A ride on a Himalaya isn't very elaborate as far as movement; the cars travel in a circle and navigate a set of hills in the process. A ride on Himalaya is really more about the atmosphere. Himalaya's are commonly referred to as "music rides" due to the ride playing music and having a general dance club aura to them in order to draw in riders.
Along with music, many Himalaya rides will also feature lighting effects such as flashing LED or turbo lights, strobe lights, disco lights, and in some cases laser lights. Fog machines are also a popular feature as are bubble machines. In addition, a horn or siren is usually standard fare for these rides and is sounded when the ride reaches its highest speed.
Other Info
There are many different Himalaya rides made by various companies, the major ones are:
Bertazzon: Musik Express/Super Himalaya, 20 cars – top speed of 13.5 rpm
Mack: Musik Express, 20 cars
Wisdom: Himalaya/Polar Express, 22 cars, 11.5 rpm

Wisdom also had Arctic Circle, a larger Himalaya.

Reverchon: Himalaya, 24 cars, 12 rpm
Venture: Mini Himalaya, 14 cars
Other manufacturers include Soli, ARM, and SDC.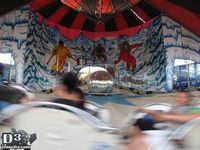 Himalaya is one of those rides that can be customized as far as artwork, lighting, and overall appearance making some models extremely unique looking. Most have a roof structure, while some have been modified to be open air, such as Oscar's Amusement's Reverchon model.
While surfing around, I found a neat little site called May's Himalaya Fan Website; it's a great place to find information and check out detailed photos of the older Reverchon Himalayas.
Multimedia
Here's a collection of photos of each Himalaya ride model. I'll add more as I get/find them!
Here's a Bertazzon manufactured Musik Express formerly at Casino Pier in Seaside Heights, NJ. It was destroyed during Hurricane Sandy, but they replaced it the next season.
This second video is of Polar Express at 12th Street Amusements in Coney Island, NY. This is a custom made Himalaya originally built in the 50s by a showman, and found its way to Coney Island sometime in the early 80s. The ride closed up in 2018 and was removed to make way for the Deno's Wonder Wheel Park expansion. It's unique in that it travels counterclockwise.
Back to Ride Reviews