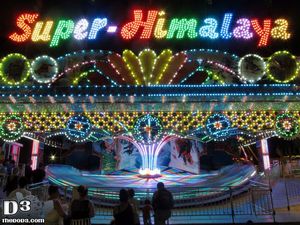 Himalaya is a type of ride made by many companies such as Mack, Bertazzon, Wisdom, and Reverchon. They typically go under three general names: Himalaya, Musik Express, and Super Himalaya
Himalaya is comprised of X number of cars (depending on the model) attached to sweeps that radiate from the center. Each car is outfitted with a wheel underneath the carriage that rolls along a track. Riders are restrained with a simple lapbar. Many Himalayas today also use seatbelts as a secondary restraint.
The Ride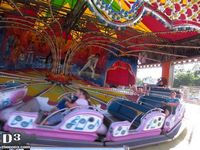 A ride on a Himalaya isn't very elaborate as far as movement; the cars travel in a circle and navigate a set of hills in the process. A ride on Himalaya is is more about the atmosphere along with the willingness of the ride op to crank up the speed dial.
On a traveling version, a Himalaya will almost certainly have music being played. After all, a Himalaya is called a "music ride" for a reason. Many Himalaya rides will also feature lighting effects such a strobe lights, flashing LED or turbo lights, disco lights, and in some cases laser lights. Fog machines are also a popular additions as are bubble machines. Finally, a horn is usually standard fare for these rides and will be sounded when the ride reaches its highest speed.
At theme parks, Himalaya rides will usually be toned down. Most don't go too fast nor have lighting or fog effects. Some don't even have music which makes the ride kind of boring if you ask me!
Other Info
There are many different Himalaya rides made by various companies, the major ones are:
Bertazzon: Musik Express/Super Himalaya, 20 cars, 13.5 rpm
Mack: Musik Express, 20 cars
Wisdom: Himalaya, 22 cars, 11.5 rpm
Reverchon: Himalaya, 24 cars, 12 rpm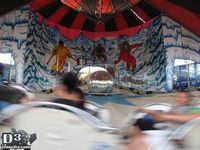 Himalaya is one of those rides that can be customized as far as artwork, lighting, and overall appearance making some models extremely unique looking. Some other rides that are usually customized in a similar fashion are Breakdances, Miamis, and Matterhorns among others.
While surfing around, I found this neat little site called May's Himalaya Fan Website; it's a great place to find information and check out detailed photos of the older Reverchon Himalayas.
Multimedia
Bertazzon manufactured Musik Express formerly at Casino Pier in Seaside Heights, NJ. It was destroyed during Hurricane Sandy, but they replaced it the next season.
Polar Express at 12th Street Amusements in Coney Island, NY. This is an original Reverchon model, or so I hear.
Back to Ride Reviews