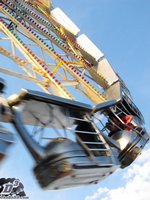 Enterprise is one of those rides that many people look at and go "Aw, hell no. I'm going to get sick on that." I mean, it spins like crazy and sends riders upsidedown, how can it not be nauseating? The truth is that Enterprise is a pretty enjoyable ride, even for someone like me who is getting more and more prone to motion sickness as I get older.
The Ride
Riders choose a car and hop in. It's at this point where most first time rider will say "Gah! Where's the damn seatbelt!?" Don't worry, you won't need it. Riders will need the door though. Depending on the model the door either slides closed or flips down. Some models also have a backup chain in addition to the standard lock.
Once secured, the wheel begins to spin until it hits warp speed. Once riders are nice an plastered to the seat, the arm holding the wheel begins to rise up to 87 degrees (basically vertical.) Most Enterprise rides will keep the wheel vertical for less than a minute, however I've seen some go for longer. Strates' Enterprise goes for at least a minute and a half. Astroland's old Enterprise went for three plus minutes!
Other Info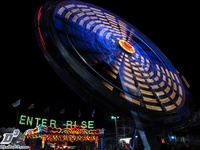 Enterprise variants are made by a handful of manufacturers but Huss and Schwarzkopf were the two major manufacturers. Schwarzkopf was first to actually design and manufacture Enterprise in 1972 with Huss producing their own version the same year.
Enterprise rides are commonly found at amusement parks but there are traveling versions as well. In the US, Wade Shows and Strates Shows each have a Huss Enterprise model. In Germany, a Huss model re-named Mondlift makes appearances at funfairs.
Beleive it or not, owners of the Huss Enterprise models had the option to convert the ride to run backwards as well as forwards. This conversion was made available through a company called North American Parts Inc in 1984, according to a Huss service letter. I'd sure love to ride a backwards Enterprise…but I think I'd be terrified at the same time!
Multimedia
Here's some photos of Strates' Enterprise
Here's a video of Enterprise at the North Brunswick Youth Sports Festival in New Jersey. This ride is owned by Strates Shows.