It's January; winter has its icy grip upon us in the northeast US. On these cold days, it's always nice to think about all the summer activities in attempt to warm yourselves up. Biking, that's something I like doing in the summertime; especially on those hot New Jersey days where a five mile bike ride becomes an endurance run. Maybe the beach; nothing says summer like a day at the shore! Or maybe a nice waterpark; you're typically going to go there on a balmy summer day. This week we'll look forward to those summer days with four waterpark maps!
Before I go on, let me warn you that these images are pretty darn big; If you have a 56k, be prepared to wait a bit as some are near 700kb in size!
---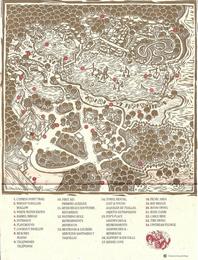 This is a map of Disney's River Country waterpark, their first waterpark built in 1976 and one of the first fully themed waterparks. The place closed up shop to the public in 2001 and as of 2005 is closed for good. I got this map during the 1998 season, however the copyright on the map says 1993. The park itself didn't have too much aside from a large lake and clorinated pool off to the side. The park only had two sets of waterslides, two full length body slides called Whoop 'n Holler Hollow that dumped riders into the lake and two cannonball falls type slides in the pool area.One of my best memories of River Country was accidently swallowing a mouthful of lake water. It's not nearly as bad as swallowing chlorinated water but at least pool water isn't going to have nearly as much bacteria! Luckily I didn't get sick or anything!
---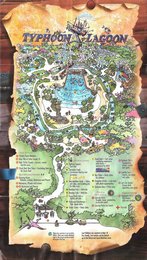 Disney's second waterpark, Typhoon Lagoon, built in 1989 and home to the wave pool from hell. I'm actually pretty suprised that Disney allows like 6 foot high waves in their pool. Six feet high doesn't sound that bad but they really threw me around! This park has a bit more to do than River Country, but it's still pretty slim in the slides category. The park is usually pretty crowded as well; I remember waiting through a queue maze to get on this one raft ride. Bah, there's only a handful of waterpark rides that I'll wait in a more than 10 minute line for! I do remember a primo lazy river though that was pretty long and went through some pretty dense tropical scenery. That's one thing that was great about this park, the scenery was some of the best I've come arcross; something expected with any Disney park.
---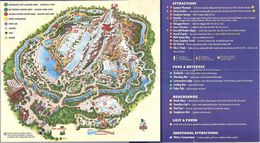 Another well themed disney waterpark, Blizzard Beach, the 'newest' Disney waterpark built in 1995. I really like the story for this park, that it's a melting ski resort that the operators turned into a waterpark. The slides have some really cool themeing as well; some of them are built right into the scenery to make them look like actual downhill runoff troughs. Unlike the previous two Disney waterparks, this one had a ton of slides and all of them were pretty good.
---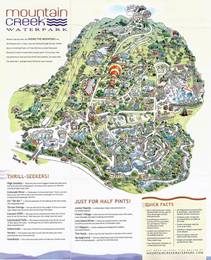 Finally we have Mountain Creek, a waterpark in northern New Jersey that was formerly known as Action Park. While Blizzard Beach has the theme of a ski resort, Mountain Creek IS a ski resort in the winter. In the summer the waterpark side opens along with some unforgiving downhill mountain bike trails that require a ski lift to accend to the top of. Being part of a ski resort, most of Mountain Creek Waterpark is on a steep grade; some sections are probably on a 30 degree angle, which is not a whole lot of fun to hike up! Other sections, especially in Roaring Springs on the bottom right, are very rocky with steep stairways and rough terrain that isn't much fun to walk on (which is why I always wear aqua socks to MC!)
Back to Theme Park Crapstravaganza