I remember this trip very well; it was my first time at Universal Studios in Florida. At this point Islands of Adventure was just being built and many of the coasters of IOA were standing without much themeing. I vividly remember riding past what would become IOA and being a bit mad that it wasn't open! Anyway, here's the park map/brochure pamphlet. As always, you can click the image to enlarge.
---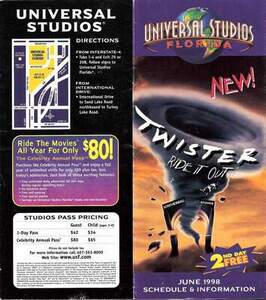 Upon seeing this, my heart skipped a beat. I was a weather freak back in my middle school years and my favorite movie was Twister. Looking back I realize that the movie was full of bad science but back then all I knew was that it had tornadoes and lightning…and it was cool! The ride itself had riders stand on this large faux porch while a simulated thunderstorm and subsequent tornado tore through the set in front of it. It was pretty short, but pretty cool as well. Although it could have been better with a lot more wind blowing at the riders.
Here's a good video of the Twister Ride.
Here's another video from different angle showing some other effects such as the 'windows' breaking and the porch blowing apart.
---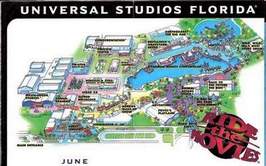 Here's the actual map. It doesn't show anything other than the attractions. If you're looking for a bathroom or place to eat, this ain't the map you want! This is only half of the actual page; below was a schedule showing opening/closing times. But we don't care about that now do we…
---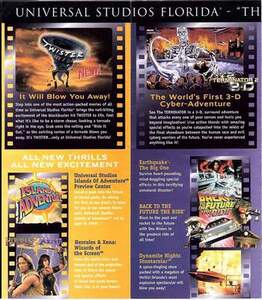 Here's some ride descriptions along with incredibly exaggerated images of each ride. I'll tell you what, if the shit in the image for Terminator 2: 3-D actually happened, then the park would probably be sued multiple times! The people do not look like they're having fun at all; there's even one dude being picked up by some robo hand! Also to the left is an Islands of Adventure preview center 'attraction.' Several years later I would finally get to IOA.
---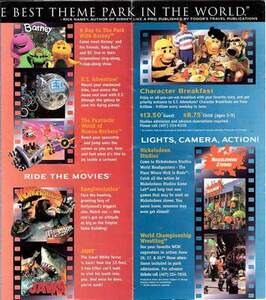 Another page, another set of exaggerated imagery. The Kongfrontation photo features a suspended trolley full of riders being trounced by King Kong. That was complete bull, that never happened during the ride! Below is a Jaws image showing Jaws attacking a boat full of riders. That never happened either! The boat would friggin' sink if it did! That wouldn't be fun at all!On the other side is a little something promoting their Character Breakfast. The dorky looking dude seems to be fixing to kick Fred Flintstone's ass for cozying up to his wife.
Below that is the now removed Nickelodeon Studios. I remember feeling a bit cheated for not getting to see a real show, a real 'Nick celebrity' or anything cool. Under that is WCW pro wrestling! Well damn, the park basically had three things that I liked at that time: Nickelodeon, tornadoes, and pro wrestling!
Back to Theme Park Crapstravaganza